Bio SoCal was on scene early one morning last week in Palm Springs to clean up biohazards. While using a crosswalk at 5:30 a.m., a 59-year-old man in a wheelchair was struck and tragically killed in the accident. Though the cause of the crash is unknown, alcohol or drugs were not a factor and the driver of the truck stayed and cooperated with authorities.
Vehicle vs. pedestrian accidents are never easy, especially when its 118 degrees outside and the pavement is 160-180 degrees. At such high heat, not only is it hard to clean the biohazards off the ground, but we also take extra care ourselves to not suffer from heat stroke. The personal protective equipment (PPE) we wear, while it serves as a vital barrier between us and biohazardous substances, is hot to wear and can quickly heat up to dangerous temperatures if care is not taken.
Working in PPE During High Temperatures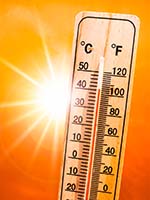 To make sure every member of our team is protected and cared for in the record-breaking temperatures, we make sure to drink lots of water, have enough technicians on scene to work efficiently, and make sure the air conditioning in all our work vehicles is in good working order.
By taking good care of ourselves, we know we will be here to take care of you at a moment's notice. With our wealth of experience and extensive knowledge on how to clean up blood, body fluids, and other biohazards throughout Palm Springs and Southern California, you always have someone with a ready solution to any problem you may be facing.
Avoiding Heat Stroke
With record breaking temperatures across the Palm Springs area, make sure you, too, are drinking lots of water and taking frequent breaks if you're out in the heat. Wear loose fitting clothing and stay in air conditioning if possible. If you have older neighbors and friends, check on them to make sure they are doing okay or if they are experiencing signs of heatstroke. Symptoms can include:
dizziness
Headaches
Vomiting
fast breathing
feeling sick
cramps
high temperature
Call 911 immediately if you experience these symptoms. Cooling shelters are available.
Bio SoCal Knows How to Navigate the High Temps in Palm Springs
Even in the high heat, Bio SoCal will be here as always to make sure our community is safe from harm. Whether you are experiencing the effects of an accident, unattended death, crime, or other event involving biohazards, we have the skills and tools to clean and disinfect the area so you can move forward in safety.
Our condolences to the gentleman's family and friends.