Biohazard Cleanup for Airplanes
Death • Blood • Suicide • Crime Scene • Infectious Diseases • Feces • Urine • Vomit
Local Company
Discrete & Confidential in Unmarked Trucks
Covered by Most Insurance
FAST 24/7/365 Service
No Out of Pocket Costs in Most Cases
Trusted by Local, County, State & Federal Law Agencies
Licensed by CA Dept. of Public Health
Biohazard Cleanup for Airplanes and Airports
Death • Blood • Suicide • Crime Scene • Infectious Diseases • Feces • Urine • Vomit
Local Company
Discrete & Confidential in Unmarked Trucks
Covered by Most Insurance
FAST 24/7/365 Service
No Out of Pocket Costs in Most Cases
• Trusted by Local, County, State & Federal Law Agencies
Licensed by CA Dept. of Public Health
Biohazard Cleaning for Airplanes and Airports
When there are biohazards needing to be cleaned in an airport or airplane or an area disinfected for infectious diseases such as COVID-19, you need a biohazard cleanup company who can be there immediately to provide quick and efficient disinfection. With years of experience in all types of biohazard cleanup, Bio SoCal is the #1 trusted biohazard cleaning business throughout Southern California.
Our teams at Bio SoCal proudly serve both commercial and private plane owners as well as all sizes of airports. No matter what time of day or night you need us, we are always available for biohazard cleaning, 24 hours a day, 7 days a week.
When biohazard cleaners are needed
Anyone who has cleaned a plane or airport regularly knows how disgusting it can be. Between all the trash passengers leave behind and wiping down all the surfaces, there is a great deal of cleaning to handle every shift. Even with an experienced custodial crew, however, there are still times when the cleaning needed is beyond their expertise or legal abilities to handle. For private plane owners, you may experience a situation when biohazard cleaning is needed and not have the knowledge or legal licenses and permits to handle it. Such situations can include: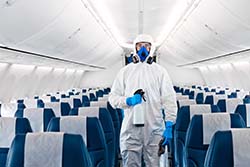 Blood Spills
Vomit
Death
COVID-19 Disinfection
Odor Removal
Urine & Feces Decontamination
Whenever these situations occur in an airport or on a commercial or privately owned plane, Bio SoCal is here to clean and disinfect all surfaces, including the tiny nooks and crannies, in order to ensure a safe environment for whoever passes through.
Bio SoCal has the experience you can count on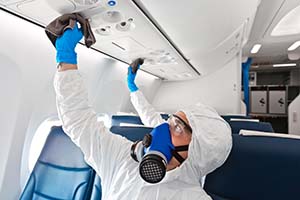 Bio SoCal has the experience and knowledge you can count on. With so many tiny spaces in an airplane, body fluids such as blood, urine, or feces can be difficult to clean for those untrained in biohazard cleanup best practices. Without knowing where to look or where these fluids can go, substances may remain hidden, posing a hazard to anyone in the area with unseen bacteria and bloodborne pathogens.
In order to ensure passenger, staff, and crew safety, our team of biohazard cleanup experts will come in with the appropriate personal protective equipment, industrial-grade cleaners, and the latest cleaning technology to clean out even the smallest of spaces while also quickly and efficiently covering the large spaces in the airport for situations such as COVID-19 disinfection.
Bio SoCal operates quickly and efficiently
When you are running an airport or flying a plane, time can be of the essence and a quick turn around time in cleaning, even cleaning to remove biohazards, is vitally important to your reputation and the running of your business. Here at Bio SoCal, we understand your need to stay on schedule as much as possible. Every member of our staff works diligently and discreetly to ensure quality cleanup every time without attracting unneeded attention. By relying on us for the cleanup and the legal transport and disposal of all hazardous substances, you can rest easy the area is safe and completely restored.
Call today for immediate service or with any questions
Whether you need immediate biohazard cleaning or COVID-19 disinfection for an airport or plane, have a question to ask, or want a free estimate and consultation, Bio SoCal is always happy to help. Available 24/7, we are here to serve you and keep your business and your flights running smoothly.
Give us a today.
Southern California Counties Served
Los Angeles County
Phone: (310) 773-4599
Riverside County
Phone: (951) 534-5899
San Bernardino County
Phone: (909) 332-5800
Ventura County
Phone: (805) 852-1600
Orange County
Phone: (714) 831-0088
Phone: (949) 424-6299
Santa Barbara County
Phone: (805) 852-1600
Kern County(Parts of)
Phone: (805) 852-1600
San Diego County (Parts Of)
Phone: (760) 565-5900