Biohazard Car Cleaning
When there is a biohazard spill in the car such as blood, body fluids, vomit, drugs, urine, or feces, the vehicle needs to be properly cleaned and sterilized. Cleaning out biohazards from a car is not something a regular detailing shop can or should handle. They don't have the training to remove biohazards nor do they have the skills to remove all the affected pieces of the car. At Bio SoCal, our team quickly handles the removal of all biohazards and eliminates any lingering odors.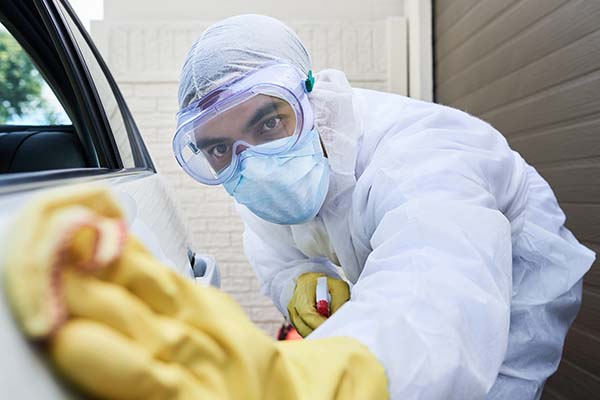 Situations we regularly handle include:
theft recovery
paraphernalia
Accidents
blood
biohazards
drugs
needles
Check with your auto insurance company
If you need biohazards cleaned in a car or truck, you should check with your auto insurance company first. Depending on the extent of the damage, the auto insurance company may decide the car is not worth cleaning but will total the vehicle instead. This decision depends on comparing two factors:
Extent of the damage and cost of repair: The cost of biohazard car cleanup goes up or down depending on the extent of the damage. To remove all biohazards from a car and make sure it is safe to occupy, seat covers, carpet, and even the console may need to be replaced as well as the biohazards removed from all surfaces.
Year and make of the car: The more valuable a vehicle is, the more an insurance company will pay to have it cleaned. If the cost of repair is greater than the value of the vehicle, then they will generally total the vehicle out.
The cost of biohazard car cleanup involves not only removing the porous items such as foam, leather, carpet, and fabric, but also replacing them. This is especially true when a strong odor is involved. To remove an odor, the source of the smell must be taken out first. Since the molecules soak into all porous surfaces including places such as the seats, carpet, leather, and HVAC system, all affected items in a vehicle must be removed and replaced. Thus, it is best to go through the insurance company when you can so they can cover the cost of biohazard cleanup, odor removal, and replacement of any materials or parts.
We clean the car onsite
We gladly come to you for biohazard cleanup of vehicles. There is no need to tow or drive the car to us. Protect yourself and your loved ones by simply letting us know where the car is located and we will handle the rest. In addition to private owners, we also work with car rental companies, police departments, ambulances, and auto body shops to clean biohazards from cars that have been in accidents. No matter the situation, we have dealt with it before and know how to handle it.
Whether you are cleaning up the car to continue using it or are preparing it for sale, we will make sure the vehicle is safe to drive without a trace of what occurred.
Our biohazard car cleanup process
After assessing the extent of the damage and getting your approval to clean the vehicle, we will first cut out all the damaged porous materials that cannot be cleaned such as seat covers, foam, carpet, seat belts, and leather. We then clean every nonporous surface, making sure to reach all nooks and crannies, to remove any remaining biohazards. If there is a lingering odor in the air, we use the latest technology in odor removal to help ensure the smell does not return.
Bio SoCal proudly works with first responders and auto detailers
Bio SoCal proudly works with police departments, ambulance services, and auto detailers as well as private owners of vehicles. As most people aren't trained in biohazard cleanup, you need a reliable company to regularly clean vehicles and legally dispose of the biohazardous waste so you can quickly put them back into service. At Bio SoCal, we gladly work with first responders and the business community to ensure the safety and cleanliness of the vehicles you rely on every day.
Call Bio SoCal for biohazard car cleanup
With 24/7 availability, we are here for you whenever you need us. As the trusted biohazard cleanup company throughout Southern California, we have the experience and reliable customer service you need when it comes to protecting the health of you and your loved ones.
Whether you need a quote on what it would cost to have your vehicle cleaned of biohazards or have a question, we are happy to talk with you and be of service in any way we can. Give us a call today.
Southern California Counties Served
Los Angeles County
Phone: (310) 773-4599
Riverside County
Phone: (951) 534-5899
San Bernardino County
Phone: (909) 332-5800
Ventura County
Phone: (805) 852-1600
Orange County
Phone: (714) 831-0088
Phone: (949) 424-6299
Santa Barbara County
Phone: (805) 852-1600
Kern County(Parts of)
Phone: (805) 852-1600
San Diego County (Parts Of)
Phone: (760) 565-5900