Suicide Cleanup
We are here to help you…call us
Local Company
Discrete & Confidential in Unmarked Trucks
Covered by Most Insurance
FAST 24/7/365 Service
No Out of Pocket Costs in Most Cases
Trusted by Local, County, State & Federal Law Agencies
Licensed by CA Dept. of Public Health
Residential • Commercial • Vehicles • Boats
Suicide Cleanup
We are here to help you…call us
Local Company
Discrete & Confidential in Unmarked Trucks
Covered by Most Insurance
FAST 24/7/365 Service
No Out of Pocket Costs in Most Cases
Trusted by Local, County, State & Federal Law Agencies
Licensed by CA Dept. of Public Health
Cleanup After a Suicide
When a family member or friend is suddenly confronted with a suicide it is often the most difficult situation they have ever encountered. After the first responders and coroners leave, family members are faced with the daunting task of cleaning up after their loved one. Quickly having the scene cleaned helps the surviving family members move forward and tend to other important matters.
Always very discrete and confidential, Bio SoCal arrives in a plain white unmarked vehicle and technicians do not wear company logos.
Suicide Cleanup – Why Is It So Difficult?
<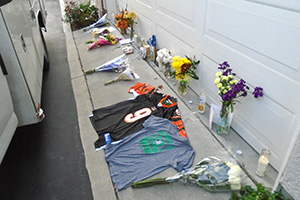 Aside from the emotional impact of the unexpected event, the family must have the biohazrds cleaned up quickly and professionally. Not wanting any additional attention, the cleanup is done quickly and with extreme discretion, respect, and understanding. California state regulations deem all body fluids and tissue to be a biohazard requiring expert knowledge and special safety, handling, and disposal procedures. Doing it yourself is not recommended for both physical and emotional reasons.
How Much Does It Cost?
If you have homeowner's insurance chances are that there may not be any out of pockets costs. In most cases homeowner's insurance will cover the cost of our services as well as the replacement and repair of any items that are contaminated and need to be properly disposed of. We will file the claim on your behalf and submit an inventory of any items that are removed or not able to be recovered due to biohazard contamination. If you do not have insurance or are a property manager please call us for a free estimate.
What Does a Suicide Cleanup Company Do?
We disinfect, clean and remove all biohazards that are present. Cleanup is needed from top to bottom; ceiling, walls, furniture, personal items and even light fixtures. Each tiny spot and square inch in a room that is exposed to biohazards is considered a potential source of infection.
We know what to look for. A thumbnail spot on the carpet might mean a two-foot diameter bloodstain on the padding under the carpet or on the sub floor. A tiny droplet of blood on the top of dresser drawer is an indication of more blood inside the drawer or underneath the handle. With time biohazards start to smell and must be identified, disinfected and cleaned to be sure that you and your family are safe.
Bio SoCal is the #1 Choice in Southern California
Bio SoCal, is best and most respected biohazard cleanup company in Southern California. Our biohazard technicians will clean, scrub, disinfect and properly dispose of all biohazards resulting from the tragic event. We are trained professionals and have experience in working with biohazards, are thorough in our cleaning and decontamination techniques and will arrive on time in an unmarked truck. Call us so we can help you.
After Suicide Help
Dealing with a parent's suicide is horribly difficult at any age. For a child, many complicated feelings arise they don't yet have the experience to handle or even name. While we can't protect the children we love from these traumatic and grief-filled thoughts and feelings, there are ways we can help them cope as they work toward healing. Read more on how to help a child cope with a parent's suicide.
Southern California Counties Served
Los Angeles County
Phone: (310) 773-4599
Riverside County
Phone: (951) 534-5899
San Bernardino County
Phone: (909) 332-5800
Ventura County
Phone: (805) 852-1600
Orange County
Phone: (714) 831-0088
Phone: (949) 424-6299
Santa Barbara County
Phone: (805) 852-1600
Kern County(Parts of)
Phone: (805) 852-1600
San Diego County (Parts Of)
Phone: (760) 565-5900