Licensed by the California Department of Health
Trusted by Cities, Counties, State and Federal Agencies
FEMA Registered Biohazard Services Provider
Trauma Scene Waste Management Practitioners License
Bio SoCal is a FEMA registered Biohazard Services provider and is called upon us to assist in national disasters and has worked with both the NTSB and FAA in high profile and active investigations.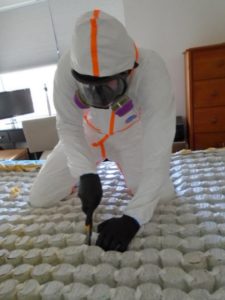 Bio SoCal has a Trauma Scene Waste Management Practitioner License issued by the California Department of Public Health enabling the collection, transportation, and disposal of regulated biohazard waste. Any company without a TSW license cannot legally cleanup biohazards and should not be hired.
We have completed thousands of jobs and helped clients through just about any situation in a professional, discrete and compassionate matter. Bio SoCal is always discrete and arrives in unmarked trucks. 
Bio SoCal adheres to OSHA and the California Department of Public Health rules and regulations to ensure the safety of our crew, you and your family as well as anyone coming in contact with the affected area.  100% decontamination and safety is our priority.
We are Licensed, Insured and Bondable.  Coverage double the industry standard.
We are proud to have a strong working relationships with many cities, counties, as well as state and federal agencies.   Most of our referrals come from public agencies.
Southern California Government Agencies Contracted with Bio SoCal
The California Department of Transportation – Caltrans – and countless counties including Orange County and cities such as Beverly Hills, Culver City, Pasadena, Artesia and The Housing Authority of the City of Los Angeles have contracted with and trust Bio SoCal for biohazard cleanup and homeless encampment remediation and decontamination across the seven counties we serve. We are proud to have been selected to serve these and other Southern California municipalities, private businesses and residents.