Licensed by the California Department of Health
FEMA Registered Biohazard Services Provider
Trauma Scene Waste Management Practitioners License
Bio SoCal is a FEMA registered Biohazard Services provider and is called upon us to assist in national disasters and has worked with both the NTSB and FAA in high profile and active investigations.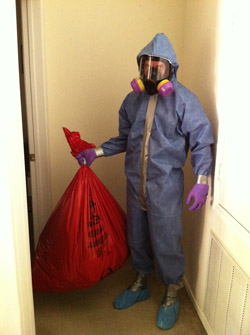 A company in California performing any sort of decontamination or cleanup services that include biohazards needs to have a Trauma Scene Waste Management Practitioner License , issued by the California Department of Public Health , and the correct training. Bio SoCal is one of only a few companies in Southern California with the licenses, and continues to be the most compassionate and respected organization in the industry.
Our Qualifications
Bio SoCal is one of few companies that has Trauma Scene Waste Management Practitioner License issued to collect, transport, and dispose of biohazard medical waste.
"A company without this license cannot legally recover a scene and should not be used."
We have fielded thousands of calls and recovered just about any situation out there in a professional and compassionate matter.
"Bio SoCal is the most caring company in the field of recovery and restoration. Hands down the best."
We maintain strict adherence to OSHA and California Department of Public Health rules and regulations to ensure the safety of our workers, the pubic, and of you and your family. "Safety is our 1st priority."
We are Licensed, Bonded, and Insured. "Our insurance coverage is double of what industry standard's dictate."
We are proud to have a great working relationship with the Sheriff, Police, Fire, Crisis Intervention Teams and most Insurance Agencies.
"Most of our referrals come from these agencies."