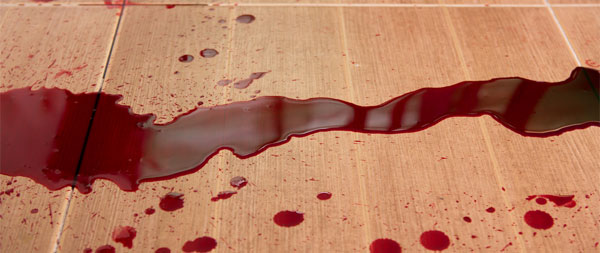 Blood is essential for human life. When a traumatic accident or crime takes place the blood left behind is a biohazard that contains pathogens like HIV that if not handled and cleaned up properly can transmit diseases. When an accident, suicide, crime, or traumatic event occurs it must be cleaned and disinfected properly or the biomaterial will begin to decompose, maggots and flies will be attracted and a strong odor will emanate.
Proper Blood Cleanup Ensures That All Blood is Decontaminated and Removed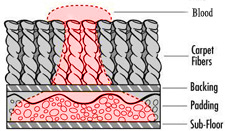 Protecting yourself, family, friend, employees, and customers from blood and bloodborne pathogens is your responsibility and must be taken seriously. Our professionally trained and licensed crew will cleanup, decontaminate, and dispose of all blood and biohazard materials so you can be assured that you, your loved ones, friends, employees and customers are safe. We cleanup blood in homes, businesses, outdoors, vehicles, boats, and airplanes.
Bio SoCal is licensed by the California Department of Public Health and has been issued a Trauma Scene Waste Management Practitioners License. Any company hired to cleanup biohazards must have a Trauma Scene Waste Management Practitioners License to legally remove, transport and dispose of blood.
What is the Proper Procedure of Blood Cleanup?
First you must secure the area to ensure that nobody comes in contact with the blood that needs to be cleaned up. Second, call Bio SoCal so we can dispatch our crew right away.
The Bio SoCal crew follows the protocol and procedures mandated by OSHA and te California department of Public Health. Our technicians wear full Persona Protective Equipment (PPE) including biohazard protective suits, masks that filter the air, and several layers of gloves. All blood is "opened up" with live enzymes and decontaminated with proprietary chemicals designed to disinfect the structure and personal belongings. We remove, transport and properly dispose of the blood and biohazards, based on the OSHA and the California Department of Health standards.
Why is Bio SoCal Considered the Leading Blood Clean Up Company in Southern California?
One of the reasons we are considered the leading blood cleanup company in Southern California is that we have professional crews who are discreet and calm when faced with traumatic situations while being understanding and with the family, friends and co-workers of the injured or diseased person. Additionally, Bio SoCal holds a Trauma Scene Waste Management Practitioners License issued by the California Department of Public Health and follows all state and federal mandated procedures. Bio SoCal's attention to detail and industry leading equipment and proprietary chemicals specifically designed to remove and decontaminate blood ensures that you and everyone else will not be exposed to any bloodborne pathogens and that your property will be decontaminated and cleaned as if it never happened.
Cleaning Up Blood
Bio SoCal's extensive training, specially formulated chemicals and vast experience cleaning up blood and biohazards has provided us the reputation as the best company to cleanup blood and bloodborne pathogens when an unexpected and unfortunate accident, crime or death occurs.
Call Bio SoCal for immediate dispatch or to discuss your particular situation. We are here to help 24/7/365.