Please Note
Bio SoCal cannot remove homeless encampments from PUBLIC PROPERTY unless contracted by the city, county or state.  If you DO NOT OWN the property in question, please call the city or county for help.
What We Do:
Consult with clients to advise procedures to mitigate legal risk & ensure safety prior to and during clean up.
Remove and dispose of all debris including makeshift shelters.
Safely remove & decontaminate all biohazards including feces, urine, vomit, blood and spoiled food.
Remove and properly dispose of all sharps, illegal drugs, and paraphernalia.
Infectious Diseases Decontamination including: Hepatitis A, HIV, MRSA, C.Diff, Tuberculosis, etc.
Decontaminate and clean area to ensure health and safety.
---
The number of people that are homeless and in need of shelter is at all time high which has led to homeless encampments being erected all over our communities and public infrastructure. The homeless encampments range in size from very extensive large sites with numerous people and their belongings to a single individual taking up temporary residence in the back of a business, building or lightly traveled open space.
Bio SoCal has successfully and professionally completed homeless encampment cleanup for many private property owners and cities including Culver City, Malibu, Colton, Walnut as well as Orange Counties Santa Ana River Trail and Wilderness parks and multiple CalTrans properties.
Before

Homeless Encampment

After
Unfortunately homeless encampments are not only a nuisance and liability to those that own the property but the individual items and areas that make up the homeless encampment are often contaminated with biohazards and illegal drugs and paraphernalia. In most cases a homeless encampment will contain used and dirty hypodermic needles, feces, urine, vomit, spoiled food, blood, soiled clothing, illegal drugs, large amounts of trash, pests including rats and fleas, and makeshift structures for shelter.
Biohazards and used hypodermic needles pose a significant health and safety risk to others and thus requires proper cleanup by those trained to safely remove the contaminated items and properly dispose of the biohazards, sharps, and soiled items while also decontaminating the area.
Before

Homeless Encampment Clean Out

After
It's not worth exposing your employees or public works crew to infection or your company to lawsuits for improperly handling the cleanup. If you have a homeless encampment on your property or around your facility it should be professionally cleaned.
Bio SoCal can also help guide you through the process to rid the property of the temporary residents and secure it to enable professional and safe cleanup.
Call Bio SoCal for fast and professional service to clean up and remove the homeless encampment. We operate 24/7 and can provide service during or after business hours to meet your needs and get you back in business.
Bio SoCal is the Best and Only Company in Southern California for Homeless Encampment Clean Out and Decontamination.
Bio SoCal technicians are trained and abide the California Department of Public Health ad OSHA regulations. Bio SoCal's emergency service is available 24/7 and is here to answer all your questions. Bio-One works with all major insurance companies and will perform the cleanup quickly and professionally to allow you to get back to your daily routine as soon as possible. We clean out and decontaminate homeless encampments on your property.
Call now for more information and a free estimate.
---
SoCal Homeless Camp Clean Outs – In the News
Bio SoCal gets called often my cities and counties throughout SoCal to come in and clear out homeless encampments. Most of our jobs don't make the news, but here is one that did.
1/4 Mile Homeless Encampment Cleanout in Los Angeles County
This past April we were on scene at a warehouse property in order to clean up the quarter mile long homeless encampment set up along the wash on the edge of the property. Read More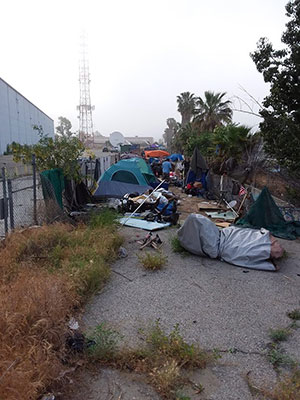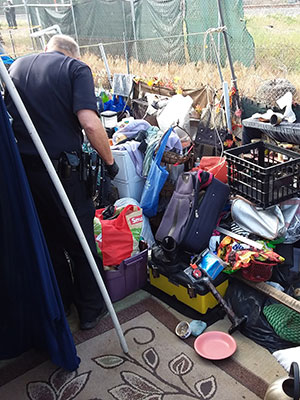 Recent Outbreak of Hepatitis A in California – The Homeless Are Most At Risk
The Los Angeles Times is reporting on California's Deadly Outbreak of Hepatitis A that could last years. The recent outbreak of Hepatitis A in California is contributed to being spread from person to person mostly in the homeless communities due to the unsanitary conditions that are often found in homeless encampments. Efforts are being made to provide Hep A vaccines for the homeless, which will help safeguard those that receive it, but it doesn't clean and disinfect the Hepatitis virus from the homeless encampments or other affected areas. If there is an encampment on your property, or even human feces, or urine on your property, you should have it removed, cleaned and disinfected immediately by professionals. Hepatitis can be deadly and proper protocols and cleaning should be followed when dealing with this virus.