Southern California
Biohazard Cleanup Company
Death • Suicide • Crime Scene • Infectious Diseases • Feces • Urine • Vomit • Hoarding
Local Company
Discrete & Confidential in Unmarked Trucks
Covered by Most Insurance
FAST 24/7/365 Service
No Out of Pocket Costs in Most Cases
Trusted by Local, County, State & Federal Law Agencies
Licensed by CA Dept. of Public Health
Residential • Commercial • Vehicles • Boats • Airplanes
Biohazard Cleaning Services
Biohazards must be removed, cleaned, decontaminated, transported and properly disposed of to ensure the health and safety of all involved. Biohazards contain bacteria and viruses that pose health risks to family, friends or employees who may come in contact with biohazards. Blood-borne diseases, bacteria, and viruses found in blood and other bodily fluids can live outside the body for days and sometimes weeks. HIV & Hepatitis are the most commonly known risks that can be contracted from biohazards. When a traumatic accident, suicide, crime, death occurs or you have biohazards on your property it must be cleaned and disinfected properly.
Southern California Biohazard Cleanup Company
Death • Suicide • Crime Scene • Infectious Diseases • Feces • Urine • Vomit • Hoarding
Local Company
Discrete & Confidential in Unmarked Trucks
Covered by Most Insurance
FAST 24/7/365 Service
No Out of Pocket Costs in Most Cases
Trusted by Local, County, State & Federal Law Agencies
Licensed by CA Dept. of Public Health
Residential • Commercial • Vehicles • Boats • Airplanes
Proper Biohazard Cleanup – Nothing is Left Behind
At home, in the workplace, and even in a vehicle, boat or airplane, protecting yourself and others from exposure to biohazards and blood-borne pathogens should be your number one concern and priority. When blood does not get cleaned properly the biomaterial begins to decompose, a strong odor emanates and flies are attracted to the scene that spread contaminates to other areas that must also be found and cleaned. Bio SoCal will inspect the property and identify all areas that have been exposed to biohazards and remove, decontaminate, and clean up everything to mitigate the health risk.
Bio SoCal is a professional biohazard cleanup company licensed by the California Department of Public Health that will make sure the cleanup is done properly to reduce future risk on infection to others. Our professionally trained crew will clean, disinfect, and dispose of all blood and biohazard materials so you can move forward and be assured that you, your family, friends or coworkers are safe.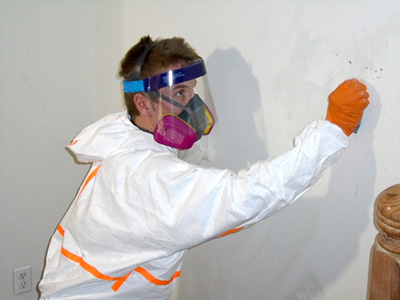 Biohazardous material includes:
Blood
Bodily Fluids
Feces
Urine
Vomit
Used Hypodermic Needles
Soiled Clothing
Personal Items
and anything else that has potentially been exposed to diseases that could be harmful to others.
Can My Employee Cleanup Biohazards?
Companies must follow strict guidelines as determined by OSHA Regulation 29CFR1910.1030 which mandates that employees have proper and comprehensive training before they are placed in a position to clean up or handle any incident that could expose them to biohazards such as blood, bodily fluids, feces, vomit or chemicals. Call Bio Socal and mitigate your liability.
Why is Bio SoCal Considered the Leading Biohazard Cleanup Company in Southern California?
Bio SoCal is here to help you make a difficult situation easier. We have professional crews who are discreet, arrive in an unmarked white truck, remain calm, and have your and the general publics' best interests in mind. Bio SoCal technicians are compassionate when working with family and clients and can help guide you through the process by clearly explaining the situation. Bio SoCal is licensed and holds a Trauma Scene Waste Management Practitioners License issued by the California Department of Public Health (TSW#493) and follows all state and federal mandated procedures. Bio SoCal is thorough and has all the equipment necessary to recover, clean, disinfect, transport and dispose of biohazards. Years of experience and training have propelled us to the top of the list when unexpected and unfortunate accidents happen.
Call Bio SoCal now if you have a situation that needs quick and thorough biohazard cleanup.
Biohazard Cleaning Company Techs
Bio SoCal's biohazard cleaning crew at work. We are here to make a difficult time easier.
Cleaning the Subfloor
Cleaning and disinfecting the biohazrds on the subfloor after an unattended death.
Bio SoCal's CEO
CEO, Alan Cohen, ensures every cleanup is thorough and complete
Biohazard Removal
Cutting up a mattress to properly dispose of biohazards after a death

Southern California Counties Served
Los Angeles County
Phone: (310) 773-4599
Riverside County
Phone: (951) 534-5899
San Bernardino County
Phone: (909) 332-5800
Ventura County
Phone: (805) 852-1600
Orange County
Phone: (714) 831-0088
Phone: (949) 424-6299
Santa Barbara County
Phone: (805) 852-1600
Kern County(Parts of)
Phone: (805) 852-1600
San Diego County (Parts Of)
Phone: (760) 565-5900
We Work With Your Homeowners and Auto Insurance Carriers