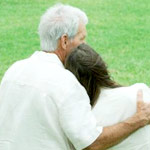 Biohazard cleanup companies clean up what you shouldn't. We specialize in the safe and discreet cleanup and remediation of blood and bodily fluids, after attempted or successful suicides, crime scenes, undiscovered death and decomposition, and traumatic accidents. Blood and bodily fluids can contaminate floors, walls, ceilings, windows, light fixtures, furniture, clothing and personal items. If not cleaned and removed thoroughly and safely, the remains can be bio-hazardous and cause odors. Hiring a professional is important to avoid re-victimizing survivors, and to assure safe and secure cleanup of tragic scenes left behind.
You are likely left with many unanswered questions and the traumatic aftermath of the scene, which varies depending on what transpires. Here's a step-by-step explanation of what you can expect when faced with the traumatic loss of a loved one.
Police Release the Scene
A traumatic death always involves the police, whose investigations can take a few hours or several days, depending on the situation. The coroner will remove the body but neither the police nor the coroner clean up or remove any contaminated matter. Once the police conclude their investigations, you will then be free to call in a professional biohazard cleanup service.
The First Phone Call
When you call us, you will speak to a person immediately, no matter when you call, any hour of any day (24 x 7 x 365). We will have some difficult questions to ask,to prepare us for the fastest and most effective cleanup. Here is what we'll need to know:
Has the scene been released by the police and coroner?
What is the relationship is between you and the deceased?
Will you be our contact person upon arrival?
Is the scene a house, apartment, business, parking lot, backyard, public area, etc.
What type of incident caused the trauma: gun shot(what type of gun), stabbing, assault, slit wrists, hanging, unattended death, etc.
How many areas are effected?
Our Arrival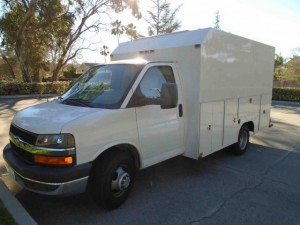 Our primary objective is to help spare you the trauma of having to deal with the physical aftermath of this tragic event. We arrive in an unmarked plain white truck, to assure discretion and confidentiality. We are here to listen and want you to be comfortable with us and our services. You will not have to re-enter the scene if you so choose, nor do you have to stay on the premises during the cleanup phase. We will evaluate the scene and situation, this can take up to an hour, then report back to you an assessment of what needs to be done and about how long it will take. Then you or a responsible party will review and sign the assessment, so we can commence the work.
We're happy to locate anything at the scene that you'd like to find. We will also ask you to locate the homeowner's insurance policy, because we most often can file a claim directly with the insurer, so you don't have to. And if you are a renter, we can provide you information on assistance provided by the Victims Services Fund.
The Process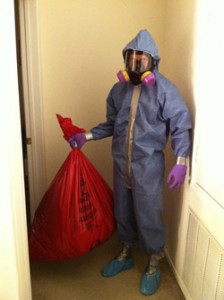 As a licensed biohazard cleanup professional we must adhere to strict safety regulations, as regulated by OSHA and the California Department of Health. For the protection of our staff, we typically wear protective hazmat suits for the duration of the cleanup. It usually takes between 15 and 30 minutes to suit up and prepare all the cleaning materials we'll need at the scene.
It is quite typical for areas to be contaminated beyond what can be seen. We conduct a very detailed inspection of the room; we expose and remediate layer by layer to follow the path of blood (it finds its way to places one would not expect); we clean up all contaminates and disinfect the room; we dispose of all affected materials.
The process includes the following steps, using proprietary chemicals that are proven and environmentally friendly:
Expose the biohazards.
Kill the contaminates.
Clean hard surface items and structures.
Cut out and remove soft and porous surfaces and dispose as a regulated biohazard.
Shine up the area and remove any chemical residue.
Deodorize the room.
Conduct two detailed independent inspections, to ensure we got everything.
Take extensive photographic documentation: upon arrival, during remediation and documenting final cleanup results.
Inventory all items and structural elements remediated and disposed of due to contaminates.
Open insurance claim on behalf of survivors. We provide detailed information to the adjuster needed to open and pay the claim.
Rest assured, we work thoroughly and efficiently, with respect for you and the scene itself. We are happy to answer any questions, please don't hesitate to give us a call.