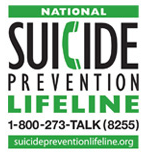 In our line of work, we are called in to help families confronted with the daunting task of cleaning up after a suicide, murder or traumatic accident. Restoring a home to its state before a trauma is only one step in a long and difficult journey for surviving loved ones.
When someone commits suicide, the aftermath can be emotional, physical, financial and spiritual for family and friends left behind. The Suicide Prevention Resource Center uses the term 'postvention' to refer to actions taken to assist people surviving suicide loss. The SPRC also provides access to extensive postvention resources, covering many scenarios supporting how people are impacted.
Suicide Prevention Resources for Survivors of Suicide Loss
This resource includes a selection of organizations that focus on survivor support services, prevention strategies and tactics, and survivor guides.
With this extensive library you can conduct a search with very specific characteristics to find helpful information matching your unique needs and situations. There are hundreds of resources available, ranging from prevention strategies and best practices, to postvention support for specific age groups, faith-based concepts, and cultural distinctions.
If you find yourself in the devastating situation of having to deal with a loved one's suicide, we are here to help clean up the aftermath, 24 hours a day, 7 days a week. Survivors can find more information on Bio SoCal's resources page.