On a recent May morning, Bio SoCal conducted a biohazard cleanup up in Cathedral City, CA after a man was struck and killed on a roadway.
At 6 a.m. Sunday morning, first responders were called to a location near Mission Drive where firefighters found a 78-year-old on the sidewalk of a residential neighborhood with a severe head wound and in "full arrest." Despite the best efforts of paramedics to save the man, he tragically died at the scene.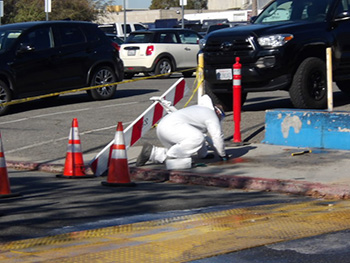 Based on the evidence in the area, police determined the man had been walking on the sidewalk when a vehicle on the roadway left the pavement and went onto the walkway where it struck the gentleman. The driver then fled the area.
Police searched the surrounding community and found the vehicle in question in addition to the driver. He was then arrested and charged with driving with a suspended license and murder. The trial is pending.
Bio SoCal provided professional biohazard cleanup
As soon as the police officers completed their investigation, Bio SoCal was on the scene to respectfully clean the area of blood with the greatest care, keeping the safety of the community as our number one priority. As a biohazardous substance, spills of blood need to be cleaned by professional biohazard cleaners who know how to decontaminate a variety of surfaces and removing not only the visible blood, but also the invisible bacteria and viruses that can threaten the health of others. Our skilled team have the depth of experience needed and the compassion for every person involved that is so integral to this work.
Take these steps if an accident occurs
All our lives can change in an instant, especially when we aren't paying attention behind the wheel. It only takes one moment of distraction for a serious catastrophe to occur. Especially when we are driving, we need to exercise the utmost caution including not using our cell phones, driving the speed limit, focusing on the area around us, and never driving under the influence of drugs or alcohol.
If an accident does occur and you hit another car, pedestrian, or bicyclist, there are several important steps to take to protect yourself and others.
Stop immediately: If you are still driving, pull the car over to a safe stop and turn off the vehicle. Never leave the scene of an accident if you hit another vehicle, person, object, or property. It is a crime called "hit and run" if you do and you will face serious criminal charges.
Evaluate injuries: Evaluate yourself, any other passengers, and anyone else involved such as a pedestrian or bicyclist for any injuries and provide care such as placing pressure on a bleeding wound.
Call the police: Call 911 as soon as possible so police can complete any needed investigation and anyone injured can be cared for by paramedics. Stay at the scene until the police release you to go.
Exchange information: Exchange insurance information with anyone else in the accident and obtain their information as well. Do not discuss fault.
Gather pictures and contact information: Take pictures of the accident and gather contact information for any witnesses who saw what happened.
Contact your insurance company: As soon as you can, contact your insurance company and let them know what happened. Give them the information of the other insurance companies involved as well as any police report and they will work things out between them.
Following these steps can protect you and the health of others when accidents occur. If you witness an accident, make sure you lend any help you can give and leave your contact information with the police and any other people involved in the crash.
Call us today for biohazard cleanup help in Cathedral City
If you need biohazard cleanup for any reason throughout Cathedral City or Southern California, give us a call at Bio SoCal. We are always here to answer questions and provide a free quote and consultation. Our thoughts are with the loved ones of the gentleman who lost his life in this accident.