Hoarding clean up is a difficult task on many levels and each case is unique.
In most cases, there are biohazards lurking in unexpected places in the home and it is important that a licensed professional is called out for extreme hoarding cases.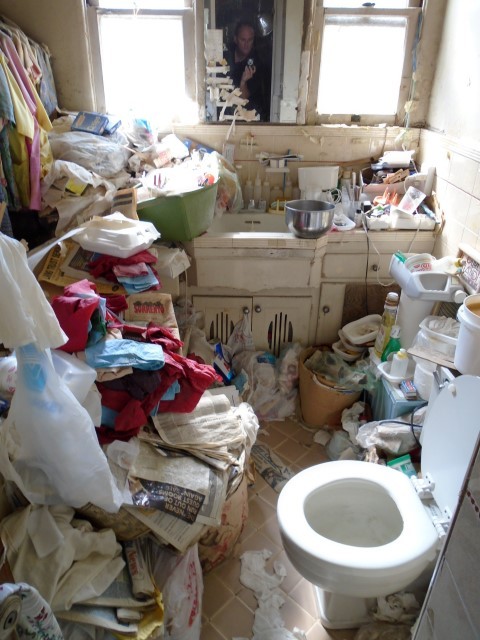 Bio So Cal is the leading biohazard cleanup service in California, and we specialize in Hoarding Remediation with an objective to dispose of all unwanted property ad debris while recovering the family's valuables of real and perceived value. Our service is discreet and professional, and we know that cleaning out a family home can be emotional.
Types of Hoarding
There are various types of hoarding that we encounter and all have one thing in common: It is difficult and unsafe to move around the home safely, and maintaining a safe clean environment becomes impossible. Below are some of the most common types of hoarding.
Collectable Hoarding: The collection of items that are of a particular significance, usually as part of a series. As the collection grows it becomes more and more valuable to the owner, with each item taking on more significance. We will recover the collectables and safeguard them during this process.
Animal Hoarding: Owning more animals in the house than be cared for in a safe and hygienic way.
Bibliomania: Bibliomania involves storing books or other media containing information.
Garbage Hoarding: The hoarding of items that would usually be immediately thrown away such as packaging, food containers, and the likes. Garbage hoarding is extremely dangerous and attracts rodent's flies, and roaches and is a major contributor to the cause of many illnesses and disease.
Bio SoCal offers hoarding cleanup assistance to address the concerns of the individual suffering from the condition and or the family who have stepped in to help. We will remove items, sorting for values ad keepsakes and return the items once they have been decontaminated,. All disposable debris and contaminated furniture is discarded.
Call us today for a free estimate.