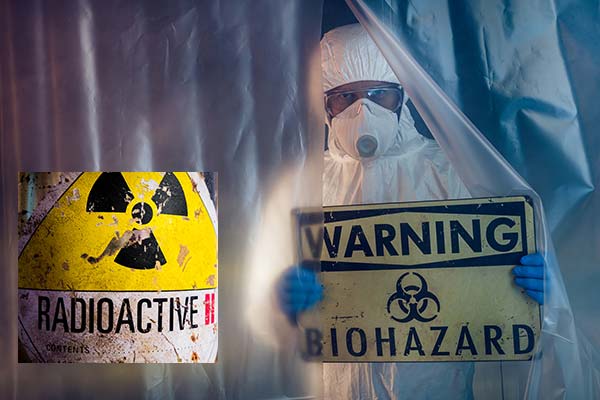 Most people don't think about the work biohazard cleaners and hazmat cleaners do every day. We read the news stories and may even see an occasional references to a cleaning company involved in remediating the property but we don't stop to think about the actual cleaning process or what it takes to restore a space after an accident or crime.
Both biohazard and hazmat cleaning companies are an important part of keeping our environments clean and healthy for us to live in. With professional and thorough training in their respective specialties of both indoor and outdoor cleaning, they know what it takes to clean up the worst messes occurring in our communities.
Know Who to Turn to in Your Time of Need
In our time of need, both biohazard and hazmat cleanup companies are here for us with around-the-clock emergency services. These cleaners step in to clean up materials too dangerous for regular janitorial or maid services. Regular cleaning companies don't have the needed training, personal protective equipment, and industrial equipment to handle the kinds of messes biohazard and hazmat companies clean every day. Which one do you call though? Which one do you turn to with the issue you have on your hands?
To save yourself time and to get the mess cleaned up as quickly as possible, it's important to know the difference between the two types of cleanup companies so you know who to turn to when you need somebody to come to your property right away.
Hazmat Cleaning Companies
Hazmat cleaners are there for you whenever there is a mess needing to be dealt with involving dangerous materials in an environment that have not come from a human or animal such as:
Chemicals
Acids
Oils
Poisons
Asbestos
Lead
Gas and propane
Whether the hazardous waste is indoors or outdoors, such messes usually occur after an accident when one of these materials is spilled or exposed to the open environment. To prevent the contaminant from further entering the environment or a human or animal from coming into contact with the substance, hazmat cleaners have a set of skills to clean up the issue and to mitigate any further destruction. This can include such events like:
Oil spills
Lead paint removal
Asbestos removal during a renovation
Chemical spills at a factory
Gas leak
Whenever one of these events take place, hazmat cleanup crews know how to clean the area so people are protected and the surrounding environment is damaged as little as possible. Because they have the ability to handle multiple types of harmful substances, these types of cleaners know what it takes to clean every one along with what cleaners and equipment is needed.
Biohazard Cleaning Companies
Biohazard cleaning companies are there for you whenever there is a mess involving a bodily fluid or substance that came from a living organism. These can be either a living organism on its own such as bacteria and viruses or matter from an animal or human such as blood, feces, urine, vomit, or other bodily fluids. In addition to these substances, some biohazard cleaning companies can also clean other substances often found at accidents or crime scenes. These can include but aren't limited to:
Drugs
Chemicals
Tear gas
Fingerprint powder
Chemicals used in police investigations
Whatever substance is being cleaned, they can be harmful to a person's health so biohazard clean up companies also use special protective equipment and can only dispose of infected materials as medical waste with special licenses and permits. A person untrained in proper biohazard cleanup should not attempt to do it themselves. Even a small amount missed can have disastrous consequences down the road. If you are dealing with a situation like one of those listed below, you need to call a biohazard cleaning company like Bio SoCal.
Crime Scene
Suicide
Hoarded homes
Tear gas cleanup
Sewage spill
Infection diseases
Unattended deaths
Homeless encampment cleanout
Odor removal
A good biohazard cleaning company will remove all harmful substances, decontaminate all salvageable surfaces, legally dispose of infected materials, and restore your property to pre-event conditions. Whatever situation you are dealing with, make sure the company you call has experience dealing with your type of situation.
Quality Companies Are Here to Serve You
Whichever type of company you need to come clean up your property, make sure they know how to deal with the substance in question. A quality company will not only have all the insurance, bonds, licenses, and permits necessary to handle the work, but should also be able to answer all your questions, put your needs first, and explain their process to you to your satisfaction.
Call Bio SoCal with any questions
If you have any questions or need help figuring out what kind of cleaning you need at your Southern California home or business, Bio SoCal is here for you with knowledgeable staff and compassionate service. Available 24-7, we are always here to help.