A RESIDENT WAS FOUND DECEASED IN YOUR APARTMENT– YOU HAVE BIOHAZARDS – NOW WHAT?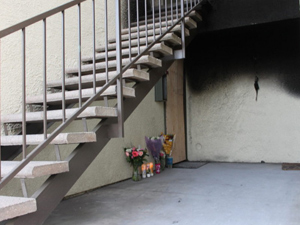 Unfortunately, chances are that at some point one of your residents who lives alone will pass and go undiscovered, or a crime or suicide will take place on your property. You are immediately thrown into emergency response mode. The authorities are called, the other residents become concerned, and you are faced with blood and biohazards in the apartment and a cleanup that is more than what maintenance can be asked to do. There are important and legally required steps you must follow before you can get the property back to generating revenue.
Critical First Steps
What you do next is critical to mitigate further damage to your property and ensure the safety of residents and staff. The coroner will often seal the unit until next of kin can be notified and in some cases where extensive decomposition sets in, they may not release the unit until a positive identification can be made.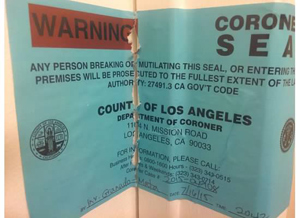 Once the apartment is cleared by the coroner, don't allow anyone to enter the apartment or try to clean it unless you and your staff have been properly trained and in accordance with OSHA regulation standard 1910.1030. Exposure to bloodborne pathogens and other potentially infectious material can be very dangerous. Bloodborne pathogens are infectious microorganisms in human blood that can cause disease in humans, including, but not limited to, hepatitis B (HBV), hepatitis C (HCV) and human immunodeficiency virus (HIV).
Next, call a biohazard cleanup company with a Trauma Scene Waste Management Practitioners License (TSW) issued by the California Department of Public Health, trained to follow the California Health and Safety Code of the Medical Waste Management Act for cleanup and disposal of regulated medical waste. Any company or person hired in California to clean up biohazards must have a TSW to legally collect, transport, and dispose of biohazard waste.
If the company does not have a TSW license or cannot show it to you, DO NOT HIRE THEM or you will be exposing yourself to liability.
What you see is not what it is…
Upon death or traumatic accident, humans immediately begin to decompose; blood and bodily fluids begin to drain. Biohazards ultimately end up on the floor, mattress, sofa, counter tops; with gunshots, on the walls, cabinets, appliances, ceiling, bathtub, sinks, and toilet. Blood droplets tend to cover everything in their path, which must be found and cleaned along with more visible blood.
Unlike spilled coffee, biohazards must be properly decontaminated, cleaned, and removed to ensure the safety of future residents and your staff to mitigate odors and maggot infestations. A licensed biohazard professional will assure the unit is cleaned properly and quickly, and available to generate revenue in the shortest period of time.
What to expect from a Biohazard Professional
A reputable biohazard company will need to assess the following, to give you an accurate cost estimate: method of death (natural causes, gun shot, sharp object, overdose); manner and placement where the body came to rest; how long it was undiscovered; and amount of biohazard waste to be disposed.
Biohazard professionals should arrive discretely, inspect the unit and determine the cleanup plan. A general rule of thumb is: soft surfaces are removed (carpet/pad, upholstered items, mattress/bedding, clothing, etc.) and hard surfaces can be decontaminated and cleaned (linoleum floor, sealed wood furniture, walls, bathroom fixtures, etc.)
There is much more to address on the floor than the visible stain. Typically, blood seeps through carpet and seams in tile, linoleum or wood. If biohazards have gotten underneath, affected flooring, including padding and tack strips, must be completely removed to effectively clean, decontaminate, and seal the sub floor.
Odor is another pressing issue that must be fully addressed to complete the cleanup. Odors from decomposition and blood are extremely unpleasant and can linger even after biohazard materials are removed. Choose professionals who utilize state-of-the-art technology, such as ozone and oxygen-replenishment treatments, to remove odors safely and effectively, without lingering chemical smells or perfumes.
Remedying the unfortunate occurrence of a suicide or death can seem daunting, but by engaging the help of a licensed biohazard professional, your unit will be cleaned thoroughly and safely, and you will have peace of mind that future residents can move in as if nothing had ever happened.
Alan Cohen is the CEO/Owner of Bio SoCal. For more information or to ask questions please go to https://BioSoCal.com or contact Alan directly at Alan@BioSoCal.com. Bio SoCal serves all Southern California counties including LA, Orange, San Bernardino, Riverside, Ventura, Santa Barbara and San Diego.