Thousand Oaks Crime Scene Cleaners
It's hard to believe that there is a need for crime scene cleaners in Thousand Oaks. The need isn't as prevalent as other cities, but we still do get called from time-to-time. We were on site at the most recent and notable crime scene and mass casualty at The Borderline Bar and Grill in Thousand Oaks. We are based in Westlake Village, and this particular scene was our most difficult as it in our hometown community. Trusted by the FBI and Ventura County Sheriff Department to clean the crime scene and the victims' personal affects, we worked diligently to honor the victims and their families.
Crime Scene Cleanup Requires Special Skills
Crime scene cleanup requires a special set of skills, licenses, and equipment for the area to be truly clean and safe. Our experienced staff at Bio SoCal knows what it takes to clean up after numerous types of crimes such as illegal drug activity, violent crime, and mass casualties, and how to keep those involved safe from further harm. Biohazards from a crime scene often end up in places that most would not even think to look. Our training and experience makes us efficient at locating all the biohazards and then remediating them.
Thousand Oaks Crime Scene Cleanup
Death Scene • Crime Scene • Homicide
Local Company
Discrete & Confidential in Unmarked Trucks
Covered by Most Insurance
FAST 24/7/365 Service
No Out of Pocket Costs in Most Cases
Trusted by the Ventura Sheriff Dept.
Licensed by CA Dept. of Public Health
Call 24/7 (805) 852-1600
Common Biohazards Found at Crime Scenes
As much as crimes vary, so do the crime scenes left behind. There are common biohazards found at crimes scenes when there have been injuries or even a death. Here is a list of some of the things we find at crime scenes:
blood
bodily fluids
fingerprint powder
pepper spray
chemicals used to investigate the crime
drugs and drug paraphernalia
tear gas
Working as quickly as possible, our team will arrive at your property to remove all hazardous material, clean and return all salvageable personal items, clean, disinfect, and sanitize the entire affected area, legally dispose of all waste with the required licenses and permits, then permanently remove any lingering odor. We will then return your property to you so you can move forward.
The Scene Must Be Cleared by Law Enforcement Before We Can Remediate
When a crime happens in a home or business, it's a natural feeling to want to get it cleaned up as soon as possible. You can call us while law enforcement is still on the scene to line up the cleanup. Just know that we will not be able to begin cleaning up the crime scene until law enforcement has completed its investigation of the area and releases the scene. They usually have a good idea of how long they will be and we are able to coordinate our crew to arrive once it has been cleared.
Insurance Covers the Cost of Crime Scene Cleanup
In the case of larger crime scene cleanups, you may want to consider filing a claim with your insurance for the cost of cleanup and any replacement that may be necessary. For most property owners, your property insurance policy will cover the cost of needed crime scene cleanup and remediation. We work with insurance companies all the time on behalf of our clients and will gladly help you with your claim With you as our priority, we make sure you get what you need and in most cases, the only cost to you is the policy deductible.
If you are the victim of a crime needing cleanup and don't have insurance, the Crime Victim's Compensation Board in California may be able to help. They cover multiple expenses including loss of income, medical costs, funeral and burial expenses, mental health help, and crime scene cleanup, among others. For further information, contact the board via their website.
Believing that everyone deserves a safe place to live and work, our staff at Bio SoCal always make sure the cleanup process is as affordable as we can make it. With everything you're already going through, you shouldn't have to worry about how much the cleanup costs.
Call Bio SoCal for immediate Service
We are available around the clock for immediate crime scene cleanup anywhere in Thousand Oaks or the surrounding area. Whether you need a free consultation and estimate or just a couple of questions, you can reach us 24-7 at (805) 852-1600.
Borderline Strong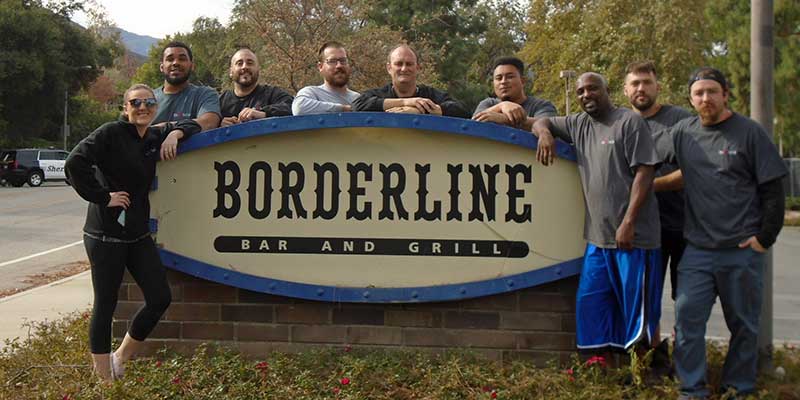 Biohazard Cleanup Thousand Oaks, CA – In The News
Bio SoCal services all of Ventura County. It will come as no surprise to hear that only tiny fraction of the work we do makes the news. Below you will find a few instances where we were called for biohazard cleanup.
Thousand Oaks, CA – Father Takes Young Son's life in a Murder-Suicide
Bio SoCal was on scene for biohazard cleanup near the end of June when a father murdered his 7-year-old son then killed himself in a murder-suicide in Thousand Oaks, CA
Thousand Oaks, CA – Mass Casualty Cleanup of the Borderline Bar and Grill
Bio SoCal was trusted and selected by the FBI, Ventura County Sheriff Office's Major Crimes Unit, the owners of The Borderline Bar and Grill and the commercial insurance company to conduct the mass casualty cleanup and decontamination of the interior and exterior of the property as well as the cleaning and decontamination of the personal belongings of the victims and survivors. Bio SoCal's team of experienced professionals worked closely with all local, state and federal agencies involved in the tragic event to clean, decontaminate, and sanitize the entire area and participated in many community events honoring and raising funds for the victims.
24/7 Emergency Services
Thousand Oaks, California