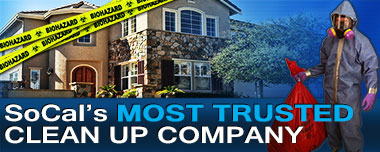 NO OUT OF POCKET COST
We work with all major home insurance carriers
The necessary steps after a traumatic event are very difficult. Bio SoCal is here 24/7 to help you clean up and restore your home or business to where it was prior to the unplanned event so you can focus on what's important.
Our clients choose us for our proven expertise in providing prompt, discrete, confidential and professional biohazard cleanup services to restore property to its original condition. Bio SoCal specializes in all types of biohazard cleanup including blood cleaning, death cleaning, murder cleanup, suicide cleanup, crime scene cleaning, homicide cleanup, and Hoarding clean out.
Hoarding Cleanup